Medan - North Sumatra Provincial Government offers 7 (seven) priority projects as investment opportunities for Singaporean investors. The seven projects consist of one tourism sector which is the National Tourism Strategic Area (KSPN), namely Toba Caldera Resort.

The other six projects are in the infrastructure sector, namely Sei Mangke Special Economic Zone (SEZ), Mixed Use Rental Apartment (Rusunawa) which is integrated to Sei Mangkei SEZ, Kuala Tanjung Industrial Estate, Siantar-Parapat Train Railway, Mebidang LRT, and Sport Center.

This offer was presented by the Governor of North Sumatra, Mr. Edy Rahmayadi, during the Indonesia Investment Day (IID) 2020 North Sumatra through a video conference, Tuesday (25/8), live from Bank Indonesia of North Sumatra Representative Office, Balai Kota Street Number 4 Medan. On that occasion, the North Sumatra Invest (NSI) website was launched as a potential data bank for North Sumatra.

"We are aware that investment is the key to accelerate economic growth in each region. So, we are always preparing to welcome potential investors, both in terms of the availability of data on investment potentials, as well as regulations on convenience and incentives, also the availability of human resources as skilled and professional workers," said Mr. Edy.

Responding to the economic situation during the pandemic, Mr. Edy said, the North Sumatra Provincial Government has refocused the local budget as much as IDR 1.5 trillion and is currently entering the second phase. Where as much as IDR 117 billion was allocated for handling the economic impact.

"It is undeniable that current world's economic conditions are weakening. However, we always prepare anticipatory steps. "Hopefully, we are optimistic that the situation will improve soon," he hoped.

Edy saw positively through Indonesia Investment Day event virtually as an effort to revive during the pandemic. "If previous years were held face-to-face, this means that the pandemic must not prevent us from continuing to grow. Thank you to all those who made this event possible, "said him.

Previously, the Indonesian Ambassador to Singapore Mr. I Gede Ngurah Swajaya said that Indonesia Investment Day was the flagship program of the Indonesian Embassy in Singapore since 2018. This year, this event was implemented virtually involving hundreds of Singaporean investors and 11 provinces in Indonesia i.e. North Sumatra, North Sulawesi, DKI Jakarta, Lampung, West Nusa Tenggara, West Java, Central Java, East Java, East Kalimantan, Riau Islands and South Sulawesi.

"North Sumatra is the third province to hold a showcase (exhibiting) regional potential after East Java and Central Java. Followed by seven other provinces which will be held until the last of October. We hope that this event will be able to bridge and facilitate investors in exploring development projects in Indonesia for cooperation, "said Ngurah Swajaya.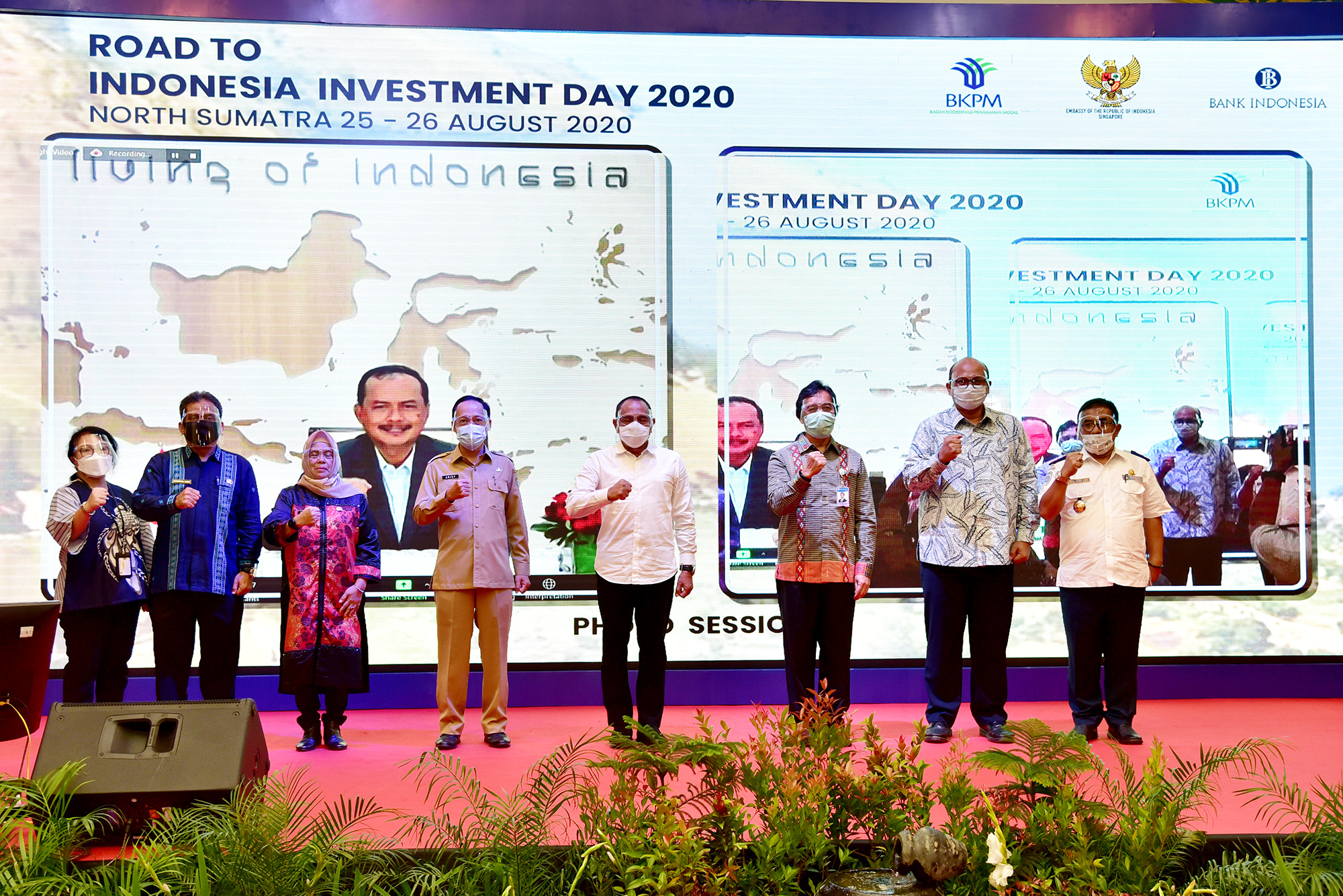 (Picture by Biro Humas dan Keprotokolan Setdaprov Sumut: Veri Ardian)
Indonesia Investment Day 2020, continued by Mr. Ngurah Swajaya, will be followed up with virtual meetings or making requests for virtual meetings between investors who have an interest and together with the person in charge of the project.

"We hope that Indonesia Investment Day 2020 will create a business signing and agreement between Singaporean investors and the local governments which is involved," he concluded.

Several sequences of Indonesia Investment Day 2020-North Sumatra event such as introduction from several projects by the person in charge, namely Toba Caldera Resort by the Head of BPODT Mr. Arie Prasetyo, Mixed Use Rental Apartment (Rusunawa) by the Head of North Sumatra Housing and Settlement Area Board Mrs. Ida Mariana, Siantar-Parapat Railway and Mebidang Light Rapid Transit (LRT) by the Head of North Sumatra Transportation Board, Mr. Abdul Haris Lubis.

The event began by watching the video remarks from the Governor of Bank Indonesia Mr. Perry Warjiyo and the Head of BKPM Mr. Bahlil Lahadia, followed by a question and answer session between investors and person in charge of the project, photo session and ended up with the highlight of launching the North Sumatra Invest (NSI) website by the Governor of North Sumatra Mr. Edy Rahmayadi, Head of Bank Indonesia of North Sumatra Representative Office Mr. Wiwiek Sisto Widayat, Head of BAPPEDA North Sumatra Province Mr. Hasmirizal Lubis and Head of DPMPPTSP North Sumatra Province Mr. Arief Trinugroho.