Corona virus pandemic or Covid-19 not only shocked the city of Wuhan, but also the world. Because the Chinese economy for the first time declined sharply in recent decades. The corona virus forced factories and businesses in China to close. The country with the second largest economy in the world has contracted up to -6.8% according to official data from the National Bureau of Statistics of China. Not only that, the global economy has also begun to be rocked.

Corona virus outbreaks not only cause people to have difficulty breathing, cause high fever, or even cause death. But, this virus also inhibits the investment sector by making many investors finally postpone their investment. Likewise what happened in Indonesia, which is one of the countries that has received quite a lot of investment flow from China, as the country of origin of Covid-19.

Based on data from the Investment Coordinating Board (BKPM), throughout 2019 China is the second rank country as the most capital investment in Indonesia with USD 4.74 billion consisting of 2,130 investment projects. With this condition, the impact of Covid-19 on Indonesia will be quite significant on economic growth. This is unfortunate condition, because the investment is one of the most important components in Indonesia's economic growth, not least in the Province of North Sumatra. Where the investment proportion (31%) became the second largest contributor after public consumption (54%). Hopefully, investment in North Sumatra can be turning back to recover and continuing to increase.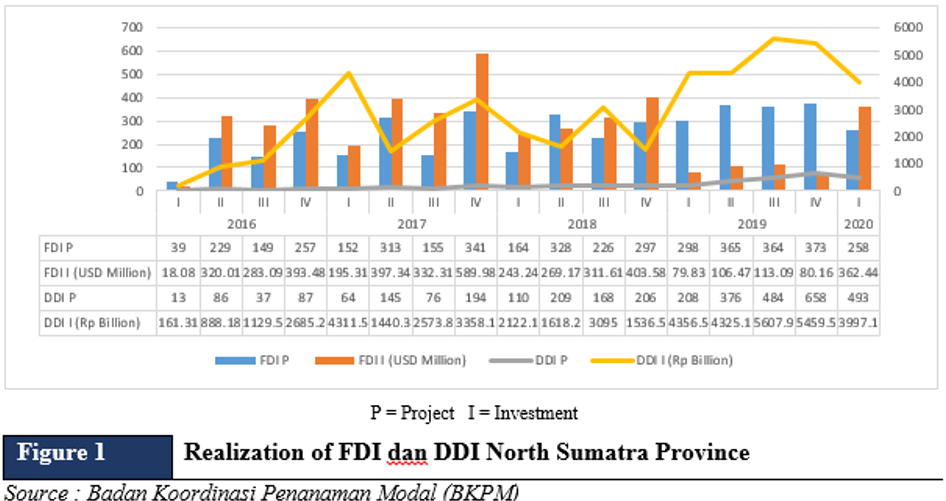 In fact, even in the midst of a pandemic like now the realization of FDI (Foreign Direct Investment) of North Sumatra in quarter I of 2020 increased dramatically year-on-year (yoy) against the first quarter of 2019 with a percentage of 361.19% which was influenced by the sector improvement tertiary, such as Electricity, Construction, Trade, Hotels and Restaurants from USD 49.75 million to USD 352.98 million. Meanwhile, DDI (Domestic Direct Investment) experienced a yoy slowdown in the first quarter of 2019 of -9.85%, which was influenced by the decline in the tertiary sector from the beginning of IDR 3,362.79 billion, down to IDR 2,603.39 billion. This realization still has the potential to increase, given the delayed investment in the electricity sector in 2019. Therefore, the Government of North Sumatra Province is still optimistic about achieving an investment target of IDR 46.15 trillion in 2020 despite in the midst of pandemic.

On the other hand, there are still challenges that must be faced by North Sumatra Province in the context of increasing investment realization, such as bureaucratic issues and investment licensing. Even though it is a "classic" problem, solving this requires special efforts and high commitment from various parties, especially regional authorities to cut bureaucracy and investment licensing, while still paying attention to the provisions of the applicable laws and regulations. Bureaucratic obstacles have made investment in North Sumatra inefficient. Looking at the value of the North Sumatra ICOR ratio during the period 2011 to 2018 was 5.67%, which is higher than some other provinces on the island of Sumatra, such as Jambi (4.68%), Bangka Belitung Islands (4.99%), and regions Java 5.56%. This high figure illustrates that North Sumatra's investment is still inefficient and not worth the cost.

Furthermore, North Sumatra is still very dependent on commodity exports which are dominated by crude palm oil (CPO) and rubber, and have not yet reached the export stage of derivative products with higher added value so that it will increase regional income. This gap opens up investment opportunities in the manufacturing / industrial sector, so that North Sumatra's economic growth can be separated from stagnation.

Meanwhile, supporting connectivity and acceleration of infrastructure development still need to be improved, including port capacity and industrial area connectivity that will maximize efforts to increase investment and add value to industrial products and expedite the process of distribution and trade.

If we look further, North Sumatra Province has many investment potentials that can be seeded, ranging from the tourism sector to the industrial sector. From the tourism sector, North Sumatra has a Toba Caldera Resort project which is located on Samosir Island with an area of ​​around 386 Acres which has an investment value of IDR 1.8 trillion. Toba Caldera Resort offers high-end facilities in the form of panoramic beauty of the world's largest volcanic lake. Lake Toba which offers a wealth of cultural tourism in the form of local traditional party performances that are carried out routinely and the aesthetic beauty of traditional Batak tribe houses.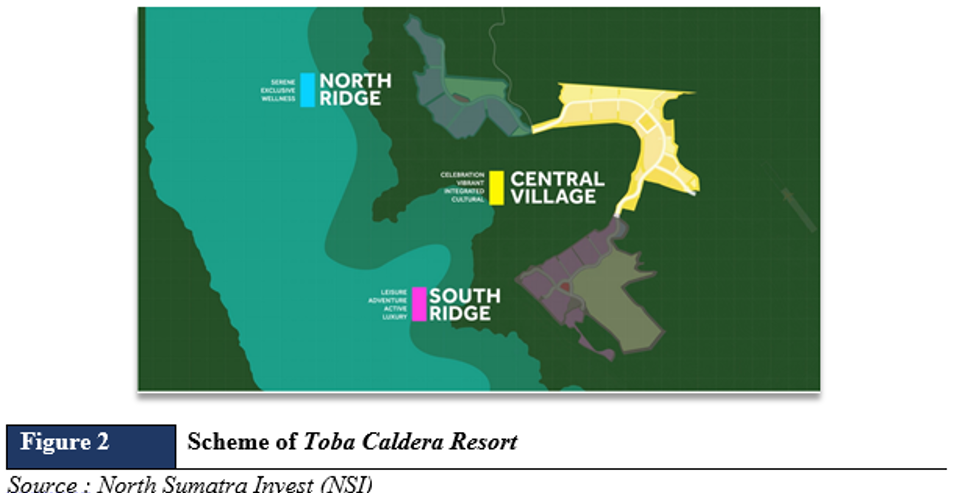 North Sumatra Province is also quite conducive in developing the manufacturing industry sector. This is evident from the magnitude of the contribution of the manufacturing sector to the North Sumatra Province GRDP for quarter I of 2020, which amounted to 8.26%. This figure is greater than some other provinces in Sumatra, such as the Provinces of Aceh and West Sumatra, each of which has a contribution amount of -5.83% and -0.90%.

This high potential is reflected in the presence of several leading projects such as:

1. Kuala Tanjung Industrial Estate in Batu Bara Regency. Kuala Tanjung Industri Area has an area of ​​around 3,400 Acres with an investment of IDR 28.87 trillion which covers the production of petroleum, liquefied natural gas, automotive, electricity, palm oil, aluminum, rubber and cement.
2. Sei Mangkei Special Economic Zone in Simalungun Regency, with an area of ​​around 1,900 Acres and an investment value of IDR 134.1 trillion, which is divided into three zones, namely, 1) Industrial zones such as palm oil, electronics, electricity, production of supporting facilities, and small and medium industries; 2) Logistics zones that carry out activities of ports, agricultural tanks, warehousing and packaging; 3) Tourism zones that focus on hotel activities, golf courses, and commercial areas such as MICE (Meeting, Incentives, Convention & Exhibition).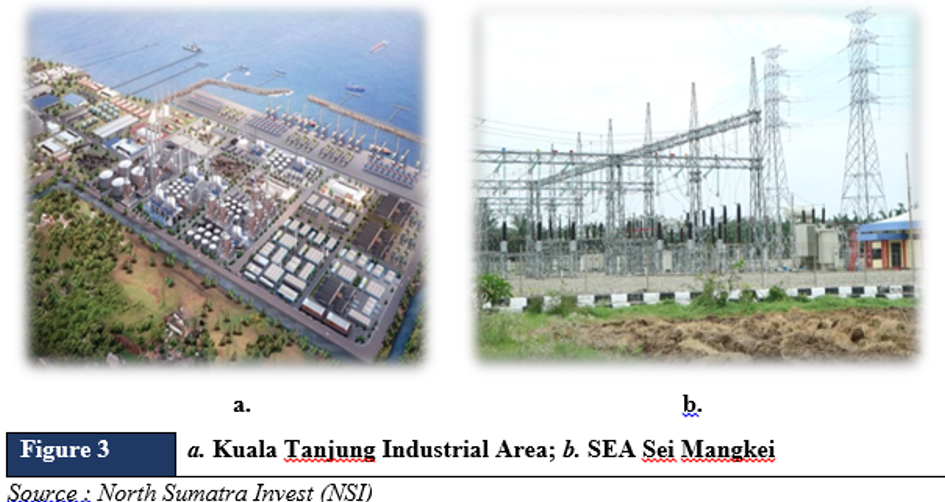 In addition, the potential for infrastructure development in North Sumatra is still wide open for investors, including the Medan - Berastagi - Tongging toll road project. Where this toll road project will later connect several regencies / cities in North Sumatra Province such as Medan City, Binjai City, Deli Serdang Regency, and Karo Regency. The investment value of this project is IDR 13 trillion. In addition, there is the Medan - Bahorok - Tangkahan toll road project which connects directly to the tourist destination of elephant bathing places in Tangkahan, Langkat Regency. This project will be realized along approximately 40 km with an investment of IDR 6 trillion as an acceleration of infrastructure in the transportation sector.

In an effort to overcome obstacles and challenges in increasing investment realization at the regional level, North Sumatra Invest (NSI) is present as a solution. NSI is a cross-agency working team in North Sumatra Province which is engaged in increasing investment realization, which is still guerrilla amidst pandemic conditions in promoting priority and potential investment projects in North Sumatra. In the current pandemic situation, NSI focuses on methods of promoting investment projects and trading online through the website.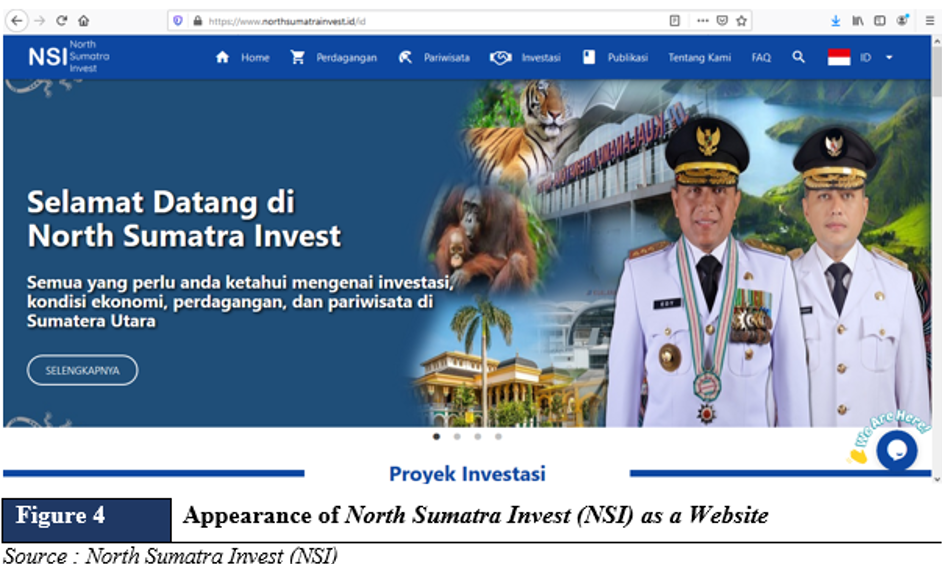 Reflecting to neighbor country, such as Singapore has a strategy in terms of increasing investment realization, namely by reducing the country's income tax rate. On the other hand, the United States is relaxing the national economy in order to convince companies / investors. The US government makes more systematic investments so that it can convince investors who want to build businesses in the US.

For Indonesia, especially North Sumatra, the strategies carried out by developed countries mentioned above can be used as a benchmarking to increase investment both FDI and DDI in order to achieve the targets set. It not only provides relaxation for the domestic business world, but also improves coordination and communication between government agencies so as to facilitate existing licensing. The spirit of bureaucratic pruning and licensing, especially during the pandemic, could be a booster in encouraging an increase in the value of investment realization in North Sumatra Province in 2020.