Bank Indonesia of North Sumatra Representative Office held a socialization event about North Sumatra Invest (NSI), Quick Response Code Indonesian Standard (QRIS), and Handover of Tokens of Appreciation Commemorative Money of Independence Day of the Republic of Indonesia 75th Anniversary (22/9) at Bank Indonesia of North Sumatra Representative Office. This event invited Mayors and Regents and also those who represent, in the working area of Bank Indonesia of North Sumatra Representative Office, i.e. Medan City, Binjai City, Tebing Tinggi City, Deli Serdang Regency, Karo Regency, Serdang Bedagai Regency, Langkat Regency, Dairi Regency, and Pakpak Bharat Regency. This event also invited representatives of DPMPPTSP and BAPPEDA of North Sumatra Province as the North Sumatra Invest technical team. To prevent the spread of COVID-19, this event was fully complied with health protocol.
Investment is one of the most important components to support regional and national economic growth. A mature investment realization can create new job opportunities and provide a multiplier effect on the economy that can explicitly support economic growth and improve social welfare by reducing unemployment. Currently, North Sumatra Province is the 4th most populous province in Indonesia. Besides, North Sumatra has successfully managed as the largest contributor to Sumatra's economic growth with contribution of 24.35% in the second quarter of 2020 and as the gateway to the Western Region of Indonesia. Based on this opportunity, the central and regional government will continue to develop supporting infrastructures for investment.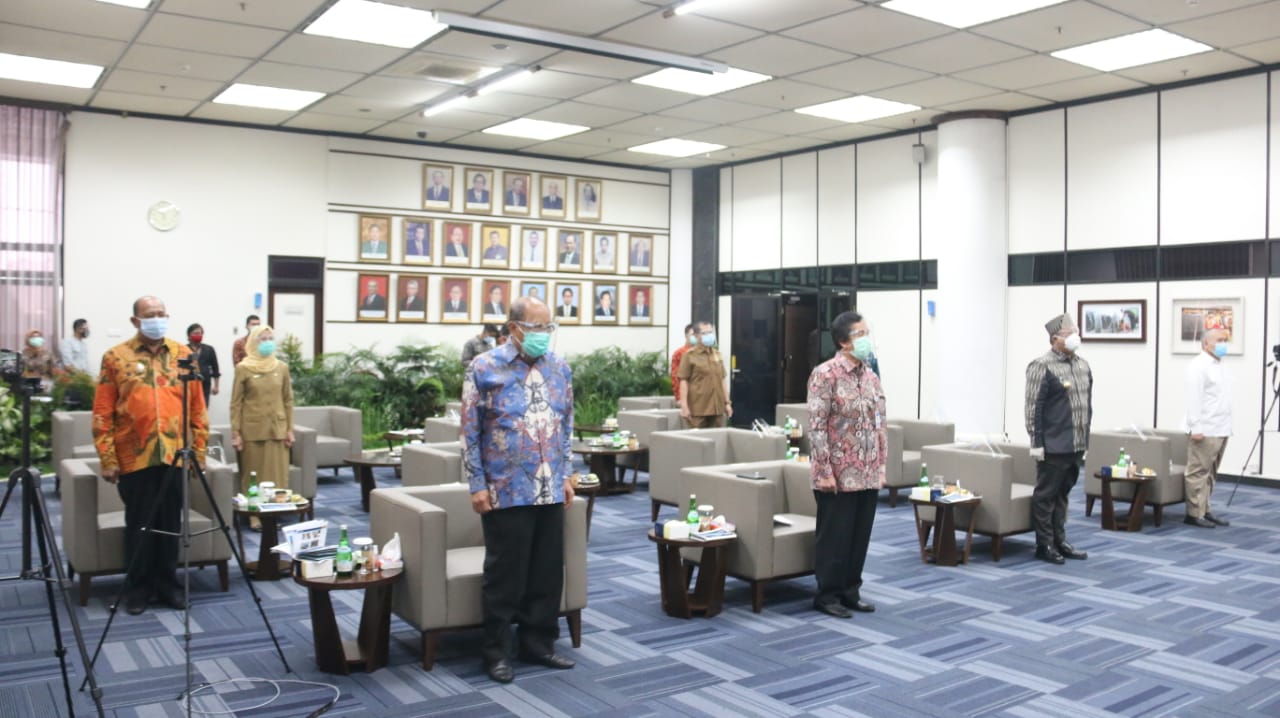 At the regional level, together with elements of the Regional Government, Bank Indonesia continues to strive the economic growth through investment. Through a cross-agency organization, North Sumatra Invest (NSI), Regional Government continues to explore various potentials exist in the region. Furthermore, NSI seeks to make it easier for investors in terms of business licensing through licensing digitization. There are several concerns of investors regarding the investment climate in Indonesia and North Sumatra, those are investment regulation (45%), infrastructure/access (20%), labor (18%), social conditions (7%), and others (9%). To meet the needs of investor, North Sumatra Invest serves data and information through website and investment book. These platforms currently present 7 (seven) clean and clear investment projects that are ready to be promoted. The project is divided into 3 (three) National Strategic Projects (PSN), namely the Toba Caldera Resort, the Sei Mangkei Special Economic Zone (KEK), the Kuala Tanjung Industrial Area, and 4 (four) regional strategic projects namely the Sei Mangkei Integrated Rusunawa, Sports Center, Track Siantar-Parapat Railway, and Mebidang Light Rapid Transit (LRT). These projects are the main focus of the regional government that will be developed intensively. NSI seeks to find the best investors to achieve the goal of a sustainable economy. The follow-up to this socialization is to continue to explore the potential and investment opportunities that exist in the regions and to carry out intensive coordination with the Regional Government at the district/city level to determine a list of potential investment projects that are worth to offer.

In this socialization, the Head of Bank Indonesia Representative Office for North Sumatra Province, Mr. Wiwiek Sisto Widayat, also presented an update on QRIS regarding the conditions of the COVID-19 pandemic. Bank Indonesia sees optimism for a rebound in economic activity through digitization for both consumers and business players in various sectors. Bank Indonesia translated this optimism by taking several short and long-term policies, namely ensuring the smooth operation of the non-cash payment system, facilitating MSME transactions, and accelerating the digital financial economy. This event is ended by the handover of Commemorative Money (UPK) 75th Anniversary of the Republic of Indonesia's Independence Day, to the invited Mayors and Regents.